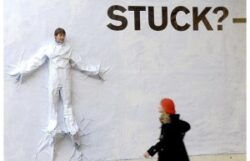 Do you feel stuck? Are you trying to do everything but you still are stuck at the miserable place instead of where you are your best?
If so, you are not alone.
One of my clients used to be in constant survival.
He could see that he wasn't doing what he really wanted to do with his life.
He knew he loved to learn. He knew he loved to be in conversations about deep issues where he could distinguish, for himself and another what they were looking at, deeply, precisely and in a way that it altered life. He loved that.
And he loved teaching.
These were the activities he loved to do, and he hoped that people would, at some point, pay for it.