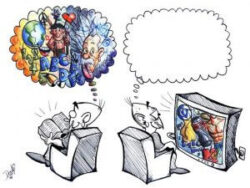 The Active Mindset: A Sure Way To Avoid All Boredom With Life
I stumbled on an article that addresses an issue I have been seeing… and sheds light at what has been invisible to me, at the why of it: why people are not curious, why people have no questions, why people are afraid of idleness, why people choose busyness instead of doing something that is worth doing.
It's everywhere. It's nearly everybody. It is why you have a hard time falling asleep… or conversely why you fall asleep as soon as you put your head on the pillow. Both are symptoms of the same invisible.
It's what drives you to busyness… to reading everything, to watching every video, to play video games incessantly, to talking without taking a breath, to overwhelming yourself and never doing anything well.
It's your inability to think… instead of having thoughts. You have thoughts in t