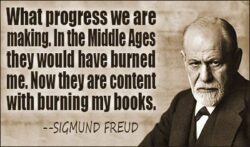 I wrote this article in 2017. It has some truth, but not all that much… I am fat again, and the weight, this time, doesn't want to move. I don't walk… so take it with a grain of salt… Please.
I went grocery shopping today on my own. I was carrying some 20 lbs of groceries up the steps to get home.
This was the first time in maybe 6-7 years. I don't drive. So I walked and took the bus and walked some more.
Why am I doing this?
Life tends to make us soft, complacent, comfortable, and comfortable people don't grow, don't evolve. In fact they devolve, they shrink.
So when I first had this brought to my attention, in one of the steps of the 67 steps, I set out to make life and myself comfortable with nob being comfortable… and I started to devise new and newer ways to toughen up.
I keep the house at a steady 47 degrees. I walk. I now walk to get my